- and the secret to doing seed stitch -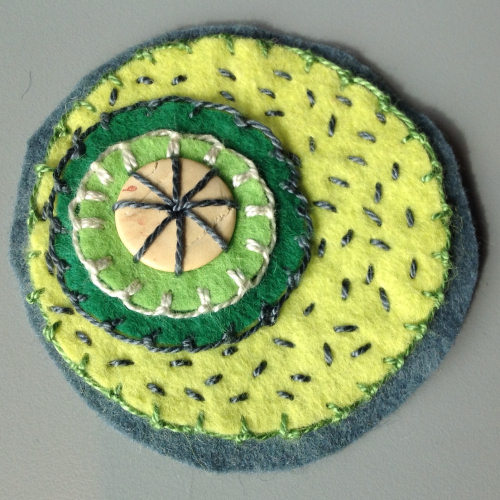 This color scheme was a real challenge, green isn't my favorite color and this combination didn't really work with the threads I had – or so I thought. Actually it has turned out to be one of my best pieces. Just goes to show what you can do if you try!
The stitches were all new for me too. I did a up and down blanket stitch for the first row, it's a little fiddly but once you get used to it there is a certain logic to it. Then in the second row I did the scroll stitch (not too happy with the instructions so I need to check these for accuracy). And the third row was a double knot stitch which is pretty easy and sort of curvy.
In between I finally nailed the seed stitch. I've tried to do this stitch a few times before and I've always pulled it out in disgust because I thought the results looked cheesy and untidy.
However, I was watching an iTunesU episode on stitching tailored jackets and they were showing a similar stitch that is done under the collar on the reverse side of tailored jackets and they did it in a fairly orderly way almost all in the one direction. It ended up looking like seed stitch. Watching it I realized I'd been trying to make my stitches too different in orientation. In fact they look better if you don't try too hard – yeah! The secret to seed stitch. Finally I had a biggish area to work with and an approach to try and it all worked really well.
Related posts: