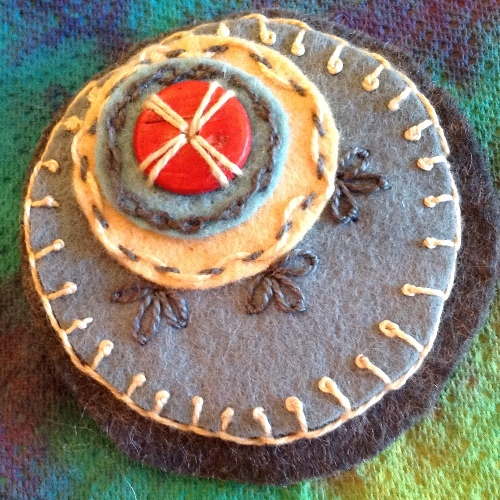 This is another of the color schemes I put together after my holiday and it combines fluffy grey felt with a dark turquoise, straw and light blue. I added a red bead – the bead supply is dwindling – there are 2 times as many plain beads as colored ones and only a few red ones so I sort of save them up and only use them when I am inspired.
Actually this project failed on so many levels! The hardest circle to embroider yet. I started off trying to stitch the bead on as if it were a small mirror like you see on some fabrics from India. The stitch is called shisha but I call it Big fail stitch! I had lots of stitches, holes everywhere and the more the stitches I made, the more the bead fell off. I finally undid it all and just did a simple spoke style stitch.
Row 1 – this is a cable chain stitch – it ends up looking like a chain so it is pretty but takes some time to get it looking even.
Row 2 – Laced running stitch – this one is easy peasy, just do one row of running stitch then lace a contrasting thread in and out of it. Biggest thing to be careful of is sticking your finger with the needle if you do as I do and use the wrong end of the needle to work it.
The next 'row' is just three sets of partial lazy daisy stitches – always a great way to add some detail to a piece.
Row 3 was horrible. It is a knotted blanket stitch. Instead of wrapping the thread around my finger I just made a loop to make the knot – but the problem with this stitch is that the knot is in the thread and has to be just in the right place – if the knot were made in the fabric it would be so much easier. I had to handcraft each stitch and pullout a few of them and undo some knots that had pulled tight to fix them. Never again, the result might look nice but they are way too difficult and it doesn't really feel like embroidery when you are making the stitches so I'll find some other way of making more interesting blanket stitches in future – I am thinking picot edging might be cute?
Related posts: