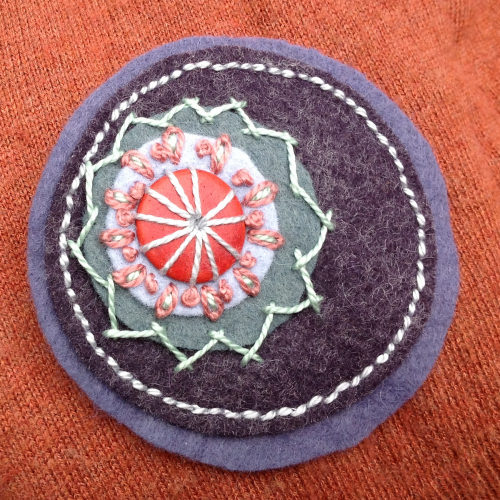 I loved the color scheme of this felt piece and I stitched it, like the most recent posts as I travelled through Scotland and Scandinavia. I always take a project with me and this time, it is a small embroidery kit. I used an old Qantas pack that I got years ago when I got upgraded to Business Class on a flight to Sydney. It's a perfect size and because it has two zips you can open it from any place and not spill its contents. For the trip I packed a hand made felt cupcake pincushion – it is built on a drink bottle cap so the needles don't go through the bottom and so it stands easily. I packed some pins, a few needles, thread, and precut circles of felt. I also have a tiny but cute and functional pair of scissors – so far the kit has gone through airport security without issue.
The threads are mainly on plastic spools on a book ring. This is very practical for traveling as I store my thread on these spools anyway. In one pack of spools that I bought there was included a huge book ring. Now I can just grab the colors of thread I need and hook them on the ring and I'm all set to go. When I get home, the spools just go back into my thread box.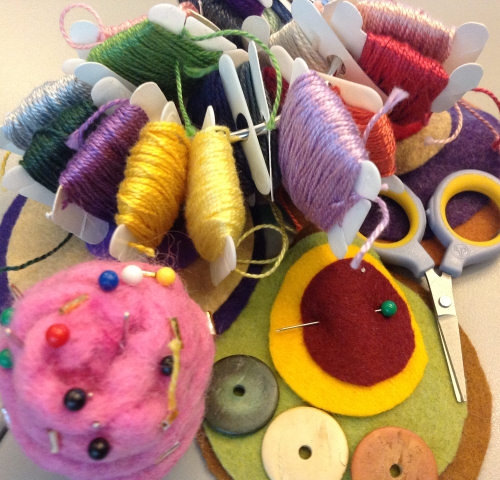 Here are today's stitches:
Row 1: Lazy daisy single stitches alternating with french knots.
Row 2: Herringbone stitch.
Row 3: Back stitch, actually I cheated on this and did it as two rounds of running stitch, the second round simply fills in the holes left by the first. It is a simple design but I think anything too complex will take away from the beauty of the herringbone stitch.
Related posts: