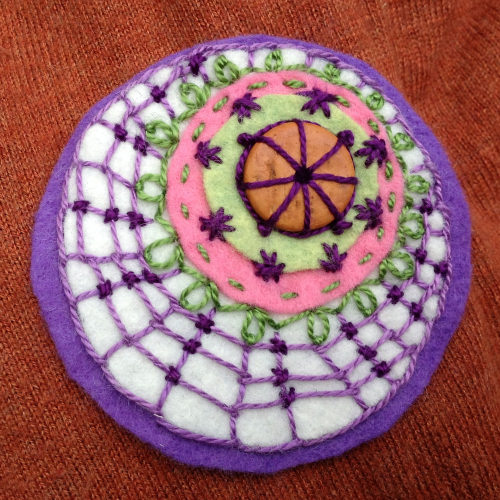 These aren't my typical colors but because I am posting a bit out of order, I've done quite a few of these circles already so I'm branching out. One way to do this is to have others choose the colors for me. They choose 4 colors then I decide what gets cut at what size. Here I gave myself a very large bit of white that I regretted as soon as I saw it pieced together. So,I made up a stitch to try to fill it in a bit – I like the result and it is certainly bold but it does have a Halloween look about it with its dark purple colors and the spiderweb style stitches.
Row 1: Star stitch – the stitches holding the wooden bead have french knots at the end of every other of them.
Row 2: Running stitch.
Row 3: Lazy daisy single stitches and a small "V" shaped stitch between each of them.
Row 4: I just sewed long straight stitches radiating out from the center – I found this easier to do if I held the thread where it should go to test the rotation before sewing it. Then I sewed long stitches the other way, stitching around the radiating stitches to hold them down every second one. Finally I added cross stitches in a second color over the overlapping stitches where they hadn't been already sewn down. I like the result and it's one of the most freeform sewing I've done yet.
Related posts: