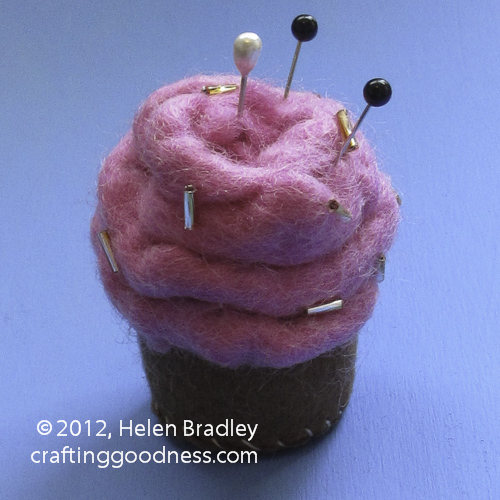 This felt pincushion was pretty easy to make as I did it using some felted cord I got from Cost Plus.
So, to make it, cover a bottle cap – screw on type – from a soft drink bottle with brown felt. I sewed mine as the felt I was using wouldn't be glued with Fabri-Tac as the glue came through the felt. I have since bought some Felt Works felt which is proper thick wool felt so this won't happen again and I can glue it if I want.
Having covered the bottle cap, I filled it with fiber fill and sewed a mini cap on top of it. Then I took the felt cord and cut it up the middle so it flattened out quite a bit. This meant I had a wider cord and provided I kept the cut side pointing inwards it would all work just fine.
I wrapped the felt cord around and around capturing it with a stitch here and there to secure it. I continued until I had a good quantity of felt icing on my cup cake. I finished off with some long narrow beads to make the sprinkles for the cake.
Materials: bottle cap (screw on type), felt cord (also called rope, string), brown felt, beads, needle and thread.
Time taken: about 45 minutes – it is a bit fiddly.
Related posts: