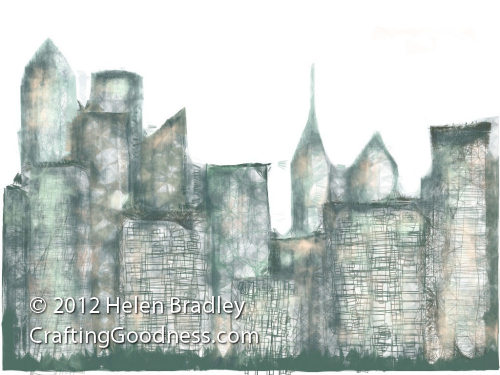 OmniSketch is one of my favorite iPad drawing apps. It really has just so much and the developer Richard is adding more effects at the moment and even better, he replies to posts on his blog which you can find at Omnisketch.com.
This image I created with OmniSketch using a range of brushes from the original set. I used the Standard brushes Open Square for the building faces and also these other brushes that I've circled.
I'm really enjoying building up lots of color by first getting a dark color and laying down the building outlines working from front to back.
Then I select colors such as pale yellow, pink, blue and green and choosing very low opacity brushes and use them to fill in the details. Buildings toward the front have more opaque brushes used on them and those in the back less opaque. One of the nice things is that the brushes tend to splatter a little bit into the background to give you a really neat background effect. Here too I created a darker foreground to tie the bottoms of the buildings in and darkened around the edges with a view to adding a vignette later on.
One of the most recent updates to OmniSketch was the ability to buy more brushes with an in app purchase. There are 24 brushes in the new collection and it costs 99 cents. The brushes that are included are shown here.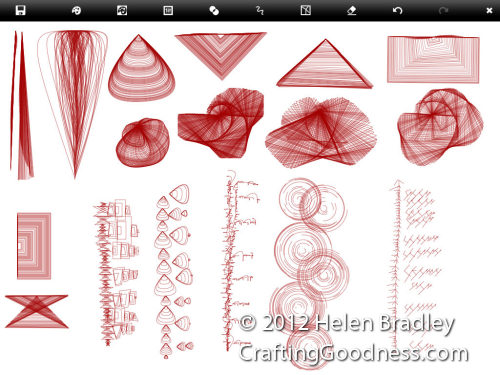 Some of the brushes anchor when you start drawing so that they spin around creating almost spiral images. These are mathematical brushes and they look totally spectacular.
One of the brushes I like is circled here. It looks very different when drawn down and drawn across. It changes to look something completely different.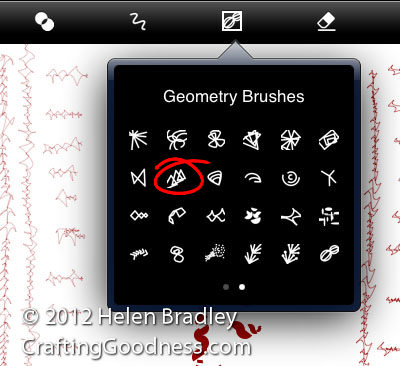 The new circular brush is fascinating and so too are the dot brush, the one that has dots and sticks and the one that's made of dots and dashes (circled in red l-r below).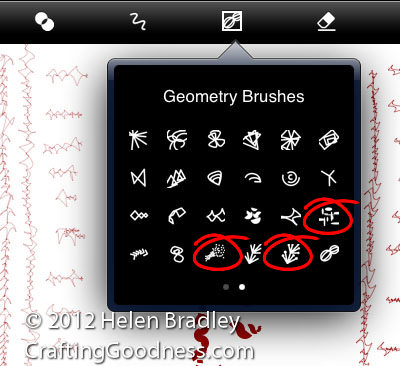 These brushes are a welcome addition to OmniSketch as I really think you can never have too many brushes particularly when the procedural brushes here work in such interesting ways.
Related posts: