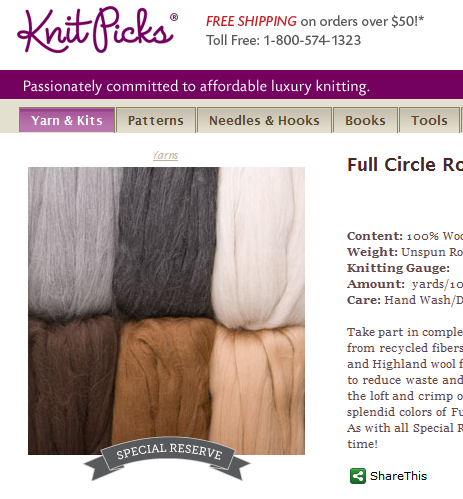 A problem I've encountered as I have been making and stuffing Amigurumi animals is that it is impossible to get black polyester fiberfill. It seems that they just don't make this stuff. I did find someone who could get it manufactured for me – but they would have to get it specially manufactured and I would have to purchase it in 2,000 pound quantities. That is a lot of stuffed cuties! Needless to say, this wasn't an option for me.
My solution is to buy black, brown or colored wool top or roving depending on the color of the animal I am making. I get my roving from Alpaca Direct. I can buy 4oz of black alpaca top wool for around $11.99 to stuff the little critters. I estimate it will stuff around 4-5 small Amigurumi dogs. So I'll be able to stuff my animals really easily with good clean alpaca wool roving which is environmentally great because this stuff is wool and in some cases it it wool that would otherwise be discarded but here it is being recycled, it is clean and natural – what's not to love about that.
Other alternatives to dark fiberfill
There are other options too that I like. At Knitpicks you can get a Furry Friends Wool Roving pack comprising 1/4 oz each of 8 colors of wool (making 2 oz in total) for $11.99. There are heaps of different color combinations here.
You could dye your own white wool tops/roving so you can make it any color you like and white wool is easier to find that colored.
At Knitpicks you can also get Special Reserve roving – 3.53 oz for $6.49 – there is no black but there is brown, and light and dark grey which will suit many projects and you can't complain about the price.
Overstock.com is always worth trying to see what they have.
Outback fibres has mixed bags 8oz weight with a minimum of 8 colors per pack of merino fiber for $20 plus shipping but you don't get a guarantee of color – just the palette – there is a natural palette that looks good.
Mohairandmore.com has mohair and more! I found Corriedale Cross Wool in ecru color for $1.15 an ounce and other wools are priced upwards of this. If you want to dye your own, this is good value.
Weirdollsandcrafts.com has a lot of cool stuff including wools and their 4oz natural wool roving is $7.50. The site is great so make time to browse around it.
Mielkesfarm.com has dyed merino tops which are very inexpensive and available in a range of colors for $7.50 for 4oz.  and dyed corriedale for under $8 for 4 oz.
Take care and calculate value
One thing to watch is that wool roving is typically priced by weight. A very tiny amount of wool can look enormous on the web! And you don't want to unwittingly pay a lot for a small amount of fiber because it might look huge. Check the weight in oz in the pack and compare – expect to pay from $8 up to triple that or more for 4oz of wool.
Why you need dark fiberfill for toys
The reason I need black or dark fiberfill to use with dark designs is because if I use the white fiberfill it will show through the crochet stitches.
There are some other options – you can line the project with something black such as felt or a recycled stocking and then fill the shape with fiberfill. In that case, you could use the white fiberfill if you line the project with a dark lining.
For my money, finding a good source of black wool fiber in place of impossible to source dark polyester or Dacron fill is going to work a whole lot better. Amigurumi animals and similar tiny projects are just too difficult to line with something additional in the way of stockings or felt – it adds an unnecessary layer of complexity to the project. Considering my dogs' legs are a mere 5 crochet stitches around there is precious little room to move in them.
For me, wool roving is inexpensive enough that I can buy it for the projects that I need it for and it really does offer the best solution.
That said, if you find a reliable online source for black or dark brown polyester fiberfill or Dacron, I'd be interested to know.
Related posts: