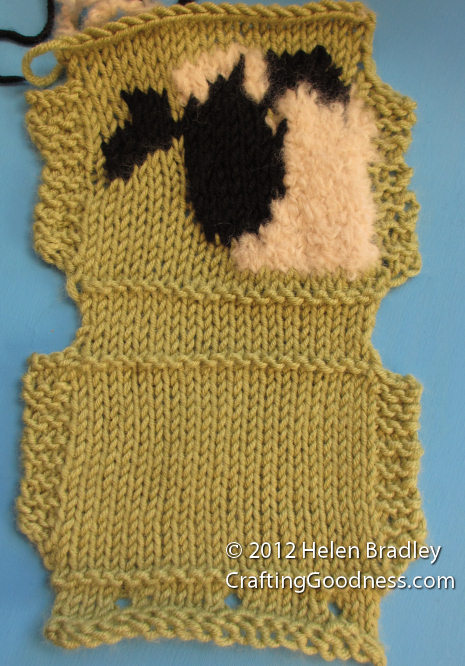 Whether you're knitting a scarf or, as I have just done, a small bag for a camera you'll need to consider blocking it.
Blocking involves wetting the project – I use hot water and a good wool wash and then laying it flat to dry. When you do this, place the piece on a strong surface like a clean towel and pin it into place to shape the project.
The camera case that I made had a pattern knitted into it. One of the wools used was a fluffy wool which caused the piece to bend out of shape appallingly. In fact, at the end of the knitting process I had a scrunched up little ball and it didn't remotely look like a camera case.
By pinning it to a clean towel, shaping it and allowing it to dry, I now have a piece of knitted fabric that has all the softness of the original but none of the bizarre shape. It actually looks like what it is.
The next step will be to sew in the wool ends and sew up the piece. I may even consider blocking it a second time to shape the project even more square than I got it the first time.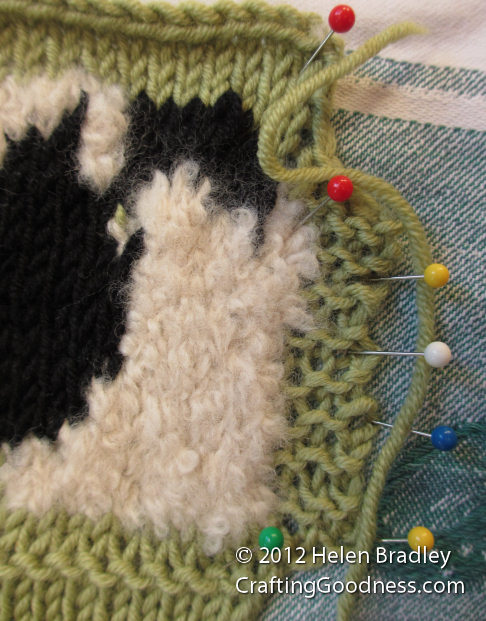 While blocking seems like just another step in the knitting process and one that in your enthusiasm to get the project finished you may think you can avoid, blocking a project really does give you a much better result.
Use blocking to get rid of curly edges of a stockinette stitch scarf and use it to reshape any knitting project to make it the shape that you want it to look like – not the shape that it comes off the needles.
Blocking is simple; all you need is a good clean surface such as a large bath towel and some good quality dressmaker's pins – the sort that won't rust and leave marks in your project.
Then rinse the project, squeeze it gently to remove some of the water and then, while it is still wet, lay it on the towel and pull and push it into shape it until you get it the way you want it to look. Use the pins to pin it into position and then leave it to dry.
It really does give a very professional finish to your work. It's great for scarves, essential for stockinette stitch scarves if you don't want them to roll and useful before sewing up bags, sweaters and the like.