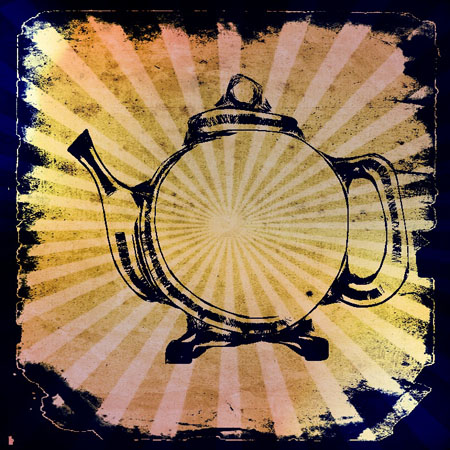 PhotoStudioHD has a wealth of effects you can use to make art. It is a $2.99 app so it isn't cheap but it does have some interesting things in it and I think it has merit for working with photos. It can crop images to square for you or work with rectangular  ones as desired.
Here I took a drawing of a teapot I made in OmniSketch – unfortunately OmniSketch has one fault I've found and that it that you can't easily select white if you've set a background colour to something else and want to go back. That's why I have a green teapot on a revolting green background. Clearly some help for the image was asked for!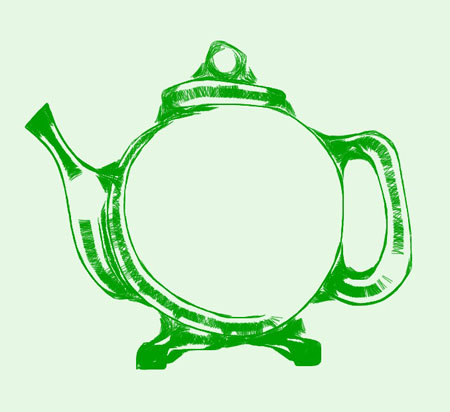 The solution was PhotoStudioHD which I had just downloaded. This comes with 190 effects built in from colour to borders and even ripple effects. It is very easy to apply multiple effects by selecting an effect and click Apply then go find another one – they are shown on the image when you click an effect but not permanently applied till you choose to apply them.
I used a burned edge and then some Grunge Rays Blue to add a background ray effect. I have actually added an image of the rays to my Camera Roll to use in future for other images. I just created an empty image by taking a photo of an empty screen. I cropped off the toolbars and then brought the image into PhotoStudioHD and applied the Grunge Rays Sepia to it and saved it. In future I can use the rays as a layer in another image.
For my teapot, however, the burned edges and some rays turned it into something a lot more interesting than it started out being and it killed that horrible green!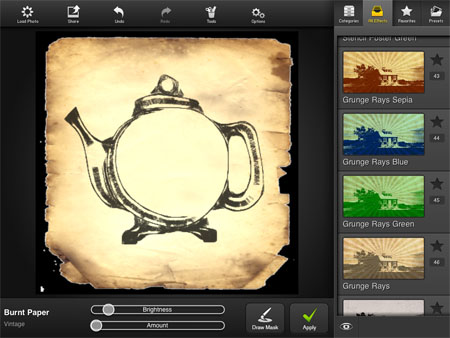 Related posts: