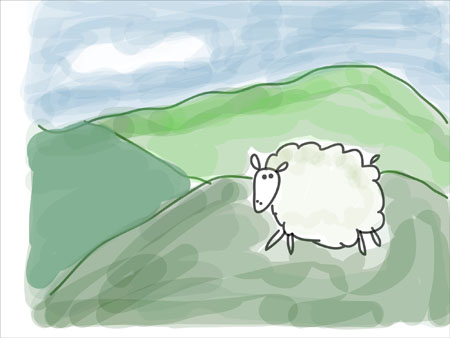 Adobe Ideas at $5.99 is a bit of a disappointment in terms of a multifunctional app. I really expected a lot more and it isn't there.
The app has a cool tool for getting five colour colour schemes from images – sort of reminiscent of kuler schemes so let's give it one point for that. It does vector drawing – one more point and the images can be very large but you have to pay for every layer you want to use. There is one unmovable layer for images and one for drawing and then you pay 99 cents for each layer on top of that – woah! not me!
There is one brush/pen – the brush is almost invisible at 1% opacity and too visible at 2% so it is just ok for doing pen and ink drawing. It can only go up in size to 60 which on the iPad is a maximum width line of around 1/2 inch and it is a rounded end brush – no textures no variation just globby painting – OMG! and it gets worse – it has no text tool – OMG! – I'm sorry but really $5.99 for that?
For $5.99 you could buy any number of apps that would run rings around this one – it is seriously over priced and under featured. I shelled out for it because I couldn't understand all the reviews, some people loved it others hated it. I think it has some saving graces but in an app market where 1.99 can buy you some seriously great apps this one isn't one of them and the concept of paying $5.99 for something this lacking in features and then buying a layer for 99 cents each time you need one is almost laughable.
If you're specifically looking for the features it has then go ahead and buy it but really look at the "features" carefully and calculate how much each layer will cost you. For my money, I'm using the app because I bought it, I am NOT buying layers so I'm off elsewhere when I need that functionality because I have plenty of much smarter apps on my iPad. I'm struggling to find a place for it in my workflow but I'm trying.
Related posts: