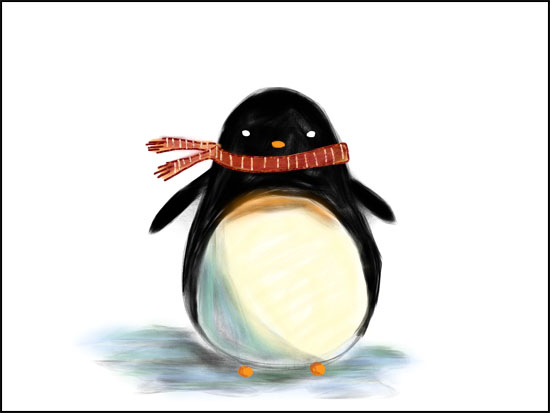 These two sketches were done based on a Guardian UK article on how to draw a penguin by Oliver Jeffers.
Drawing in Harmonious
My original design was drawn using the Harmonious app and I used its wonderful Sketchy brush with black to do this work. I'm really liking Harmonious and I love the sketchy brush that it has. It allows me to get really rich black areas on my image but it doesn't give me enough fine control to do the other work.
So I start by drawing the basic penguin outline and filling in the black bits in Harmonious then go elsewhere. One thing I wish they'd fix in Harmonious is that it only works in portrait mode on the iPad so it's a little annoying if you want to sketch in landscape.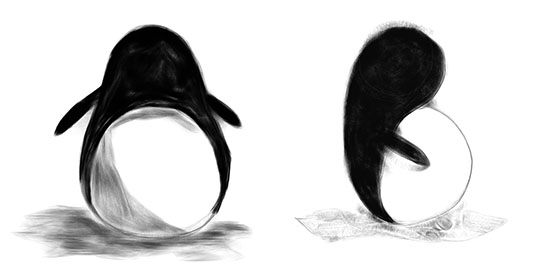 Saving your work
Harmonious has a heart shape icon in the top left corner which is where you go to save the image. I choose Save Image to do this. While Upload to Gallery might sound like it's the option you want it's actually uploading to an online gallery.
Once I've saved the image it's in my Camera Roll ready to use. From here, I opened SketchBook Pro.
Working in SketchBook Pro
SketchBook Pro was one of the first apps that I bought and I upgraded from the SketchBook free app to the Pro version within about five minutes because I loved it so much and I wanted more layers than I had in the original app.
I still really like SketchBook Pro and I use it quite often when I need some of the tools that it has. In this case, I opened SketchBook Pro and created a new image. Click on the Layers palette in the top right corner and click the icon that has a flower and a plus symbol on it. This allows you to import from the photo library into a layer.
I went to the Camera Roll and brought in the image I had saved out of Harmonious and, because it came in upside down, I selected the Layer Transform icon which has the four arrows on it to rotate the canvas. Four taps of the rotation button and it was rotated 180 degrees – this app rotates in 45 degree increments. I just pressed Done and I was ready to go.
Then I added a new layer and selected the brush that I wanted to use so I could paint on the extra bits. I like to paint on a new layer because this means that if I need to erase what I've done later on or fine-tune it, I'm not erasing away the original Harmonious drawing.
I added white eyes, an orange beak and feet, color to the snow, color to the penguin's belly and then on a separate layer again I added the scarf. The basic scarf outline in stripes was on one layer and below that the coloring for the scarf.
You can add plenty of layers in SketchBook Pro which makes it particularly handy for building up images this way. Layers can have their opacity reduced so if you want to blend an effect on one layer into the layers below, you can reduce the opacity of the layer to do so.
I like the way that the original black sketch is coming out through the color I've added on top. In some cases, if I don't get a really good set of penguin arms in Harmonious I'll also erase under the arms to make sure that there's plenty of detail there. I seem to have a bit of trouble in Harmonious always getting the brush to do what I want it to do. However, maybe today I found the cause of some of my trouble when my stylus rubber disappeared into the tip – seems the Bamboo Stylus has a screw top which had undone so it raised higher than the rubber tip. I've screwed it back on so maybe this is the cause of my fluffy sketches and penguins and rabbits with furry underarms!
When you're exporting from SketchBook Pro, you get this amazing range of options. Click Gallery to save the image in SketchBook. From the gallery you can send the file by clicking on the image to send and then click the button with the flower and the bent arrow. You can send it to the Photo Library, iTunes, Flickr, Facebook, DropBox, Tweet it, Email it or Print it. I usually choose email because I want it on my desktop to do some final work before blogging the results.
I get the option of sending it by email as a flattened file (png so transparency is retained), a layered PSD or a PDF file. If you choose, for example, flattened you can also choose the orientation to send the image in. The image opens in your email program so all you have to do is to put in an email address and send it on its way.
SketchBook Pro is great tool and I love it for its four blend modes, Normal, Multiply, Add and Screen. Multiply allows you to darken effects by multiplying the pixels on the layer. This is also a good  way to get a different color background behind an image that has white fill on it – such as images from Harmonious which come with solid fill background colors. Add the different color background to your image as a layer below your sketch layer then set the sketch layer to multiply and the white background will disappear and the underlying colored background will come through.
The Add blend mode adds the pixels and Screen allows you to lighten the image. SketchBook Pro also has mirror options allowing you to create mirror image designs. You can download heaps of extra brushes for it too from halftone and other brushes to flowers and leaves.
It's an application I come back to repeatedly and I think these penguins look just great using them.