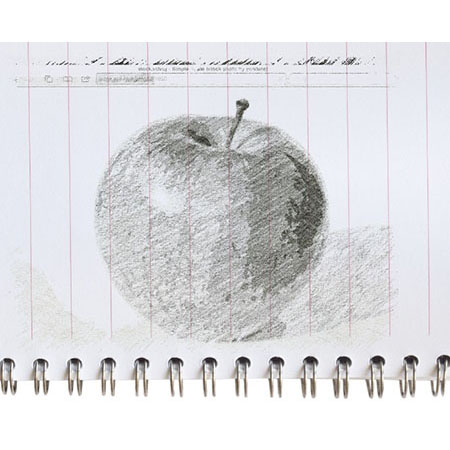 This app is a one hit wonder. It is free which is good because in terms of creativity it sucks because it does all the work for you. The only thing you get to do is to choose the paper for the background if you want a background.
I made this image a bit more interesting by using a screen capture of the sxc.hu site where this apple came from rather than using the photo alone, hence the interesting effect at the top of the image.
The big problem with this app is that the free version puts this copyright text over everything so it's not totally useable – that said, this image doesn't have the copyright text and I am just not sure how I got rid of it. I certainly didn't shell out the $2.99 they want for the full version. You can't save, print or email the final image created using this free version so it's only useful for testing if you like it. Added.. I have since talked to the developer folks at Apps4U about the inconsistency in the copyright text appearing. Apparently the text appears when you aren't connected to the web to get the advertising content on the page. So it runs with ads or big wads of text over the screen depending on your being connected or not. That explains why the text is there sometimes and not others – and kudos to their support team for clarifying this so quickly.
I wouldn't buy this app because it doesn't let me do anything or make any choices, however the sketches/drawings do look good so, if that's what you want, then it is a simple application that anyone can use and which gives usable results if you pay for it.
iPad 2 Bonus Tip
To take a screen shot from your iPad 2, press the Home and On/Off switch at the same time, you'll hear the click of the camera. The image is now in your Photos collection.
Related posts: