This might be the best $1.99 you will ever spend. I cannot say how much I love this app. If you need convincing check out the app on iTunes and see the drawings done with it.
What makes this so powerful is that there is no such thing as a simple line anymore. Lines are automatically enhanced with patterns so a simple drag on the canvas and you look like an artist. You simply can't fall fowl of this app.
To introduce it – because I know I will be returning to it frequently for this blog, I just made some simple shapes for my apple, selecting different brushes and different colours for each.
Here is what the brushes look like: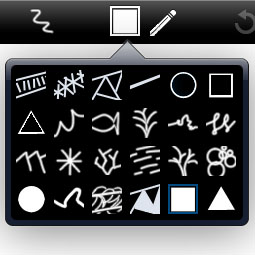 So those of the 24 shipped brushes that show lines on them like the first and second in the first row and the third and fourth in the last row all draw with shapes inside lines – these change thickness as you draw. Some draw as bubbles, some like trees and others like driving rain.
Seriously you should run (not walk) to get this app. And, if you have an iPhone it works on it too.
I'll be sharing tips and tricks for using it in later posts, for now can I hint at blend modes, mirror and kaleidoscope drawing?
Related posts: