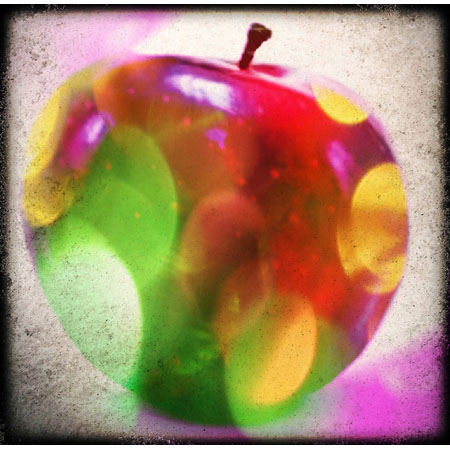 Ok today I did a one click wonder for my apple. Actually it was more than one click but it was very simple and it was done on the iPad with the Pixlromatic app. This app is free and when I first got it I loved it, then I fell rapidly out of love as the save function was horrible and either didn't save or saved without the effects… and I couldn't believe it was rated as a 4+ star app especially as it is an Autodesk app.
A few days later an update arrived which fixed the problem, now I love it again.
It is simple to use – you can snap an image, use one from your camera roll or use a demo image. You then choose a color filter then a lighting effect and then a frame and you're done. You can export to your photo library, iTunes, Facebook, Flickr, Imm.io, Dropbox or Email the image.
The effects are cool and interesting and combined you have plenty of options to use to convert the most humble of photos into something much more interesting. The big downside is that it works only in portrait mode but I can forgive it this because the rest of it is great. It is what I imagine Instagram might one day look like on the iPad minus the social media aspect of sharing and voting on images which I can easily live without.
It is going on my new Projectwoman.com – apps list as a 5 star – "Run, don't walk" to get it app, it rocks!
Related posts: