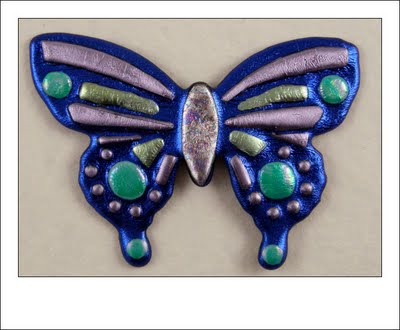 Deadline for Postmarked Entries is November 6, 2009

Tuesday night (September 2nd) on Friendly Plastic Blog Radio, Linda Peterson and Guests announced AMACO's upcoming 'design challenge' to showcase Friendly Plastic® Designer Sticks and Pellets.
This challenge is open to all ages with cash prizes and awards given in 4 simple categories that require use of at least 50% Friendly Plastic® in each entry. All entries will be showcased in a gallery on-line at amaco.com and at the Craft & Hobby Association Show (CHA) in Anaheim, January 2010.
All winners will receive an etched crystal award, $100 check, plus a $100 check to the charity of their choice.
If you haven't heard by now, Friendly Plastic® is back by popular demand! Remember that glitzy, bright, shimmering metallic jewelry from the 80's that crafters embellished with crystals, watch parts and beads?! It's back by design, because creative women like Liz Welch and Jana Ewy kept it alive, then helped reignite it with the help of Linda Peterson, Jen Lowe and their countless on line friends in the U.S., UK and Australia!
This is the second year that AMACO is honoring the 1.5 million children who perished in the Holocaust with a challenge category called "Butterflies." AMACO invites you and your friends and family members to make butterflies (as a symbol representing each child lost) to be installed at the Holocaust Museum Houston Butterfly Project.
Cash prizes and awards will be given for the Best Butterfly made by an artist under the age of 15, as well as, the Best Butterfly made by an artist over the age of 15. Be sure to read the requirements for 'butterflies'—must NOT be larger than 8" x 10" or have glitter or macaroni/perishables.
In addition, two more categories are designed to shake things up, loosen creative ideas, and stimulate original artwork! Awards will be given for the Best Mixed Media/Altered Art Project and for the Best Mixed Media Jewelry Design.
The Mixed Media/Altered Art Project can be anything from paper crafting to home décor, wearable or installation art. There's no limit to your own creative applications! The Mixed Media Jewelry Design combines Friendly Plastic® Design Sticks or Pellets with other mediums that appeal to you!
This year, Michelle and I will be coordinating the AMACO Friendly Plastic Open Design Challenge for CHA-Anaheim 2010. Click here to access the on-line entry form. The awards reception is scheduled to take place on January 25, 2010 in the AMACO Booth at the Craft & Hobby Association (CHA-Anaheim). CFor more news on the challenge follow AMACO Friendly Plastic on Facebook and Twitter
Related posts: