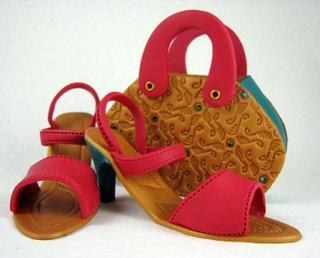 What better for an elf to go holiday shopping in than a set of matching heels and purse? Who could resist the glitter of Swarovski cystals and the Pavelka stamp design (from JHB) set into shiny Fimo clay! These are a "Looking Good" addition to anyone's tree. – mz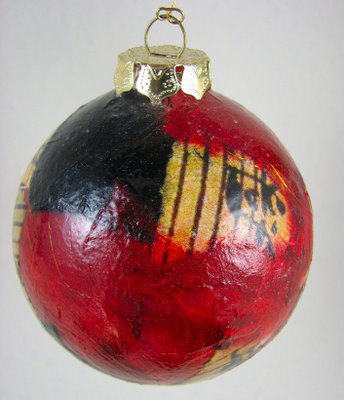 Fun with Modge Podge
This week's ornament is one that I've made some time ago but which I really still love. It's a simple glass ball that has been decoupaged with black Mulberry paper, thin red tissue and some beautiful old music paper of which I had a couple of sheets and which I keep every last scrap of because it's just so gorgeous. The combination of black, red and old paper really works for this ornament. It's a simple process to decoupage the papers onto the ornament with Modge Podge and finish off with a final layer of Modge Podge just to seal it. And when the Modge Podge dries all over your hands you get to do that scary kid thing and peel it off like you're peeling off layers of skin – eeewwww
-hb
Cindy Gimbrone aka Lampwork Diva
Make a Confetti Ring to Wear at Your Next Holiday Party!
Holiday Sparkly Fan Pull
Lisa creates a dress up look for a ceiling fan
Linda's snowman
Some paper, beads, and fabric are transformed into an adorable snow guy.
Ornaments so easy… even a kid can do them!
A recycled idea from last year using pearl UTEE!
Poinsettia Madness
Beautiful poinsettias in glass.
Poinsettia Ornament
Polymer clay and glittery snow recreate a Christmas memory
Shiny Little Things
Felting for the Festivities!
Strands of Beads
Melissa has a quicker than quick snowball pendant for a perfect last minute gift.
Related posts: