Melt Friendly Plastic, swirl it around and cut out the pretty design with your favorite ornament cookie cutter. Pop an eyelet in and hang. Tada! A simple recipe for hours of fun. – mz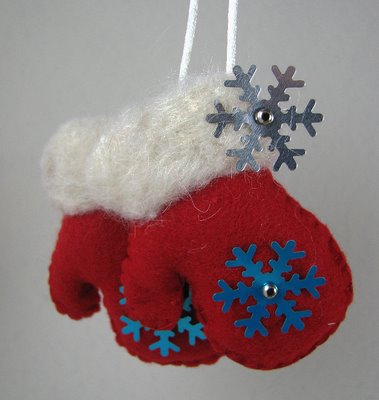 So, I'm Sewing again?
Continuing in my sewing theme for Ornament Thursday, I have a cute pair of felt mittens. I made my own pattern for the mittens, cut them out of felt and then sewed around all but the top edge and filled with fiber fill. I used some off-white wool roving to needle felt the cuffs.
The mittens are tacked together so that they'll sit neatly and I used a metal snowflake brad on each to decorate them. An additional snowflake brad is attached to the felted cuff of the front mitten. The mittens hang from a piece of light cord. I really think that even though my first two ornaments this Christmas have been sewn it's time to look for another medium next week – hb.
Now, it's time to surf over to check out what everyone else has been up to this week.
Cindy Gimbrone Puts Up Her Xmas Tree!
Fused Glass Xmas tree ornament sparkles from Cindy's real Xmas tree.
Gingham and beads and buttons, oh my
Counterchanges smocked gingham forms the foundation for this homespun ornament
HHH Enterprises
We are pleased to have this special guest join us this month!

My Favorite Things in an Ornament!
Lisa shares a special gift ornament
New Beaded Ornament
See our special guest's beautiful creation!
Secret Garden Christmas Tree Ornament
Michelle's got a special tree from the Botanicabella collection!
Strands of Beads
Melissa shows off a simple winter rose bracelet project this week.
Related posts: