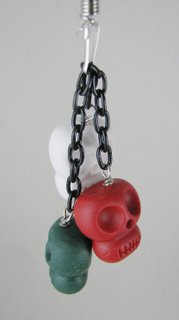 These lovely holiday skulls are all the rage and just the ticket for decorating ye olde cell phones. They're made from polymer clay and shaped using an AMACO bead roller. Just change the color combo and they make a nifty Hanukkah present as well. -MZ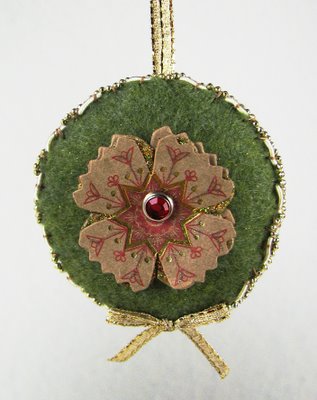 Felt Ornament
I'm not quite sure what happened this Christmas but I ended up sewing some of my ornaments. Sewing is way from being my strong point but I guess there is just something very tactile about felt that drew me to it this year.
This first ornament is two simple circles of olive green felt which have been sewed together and filled with some fiberfill. I tacked some gold and white trim around the edge of the circles and used a flower brad which I think is from K & Company as a decoration. One simple bow at the bottom of the ornament and a loop of matching ribbon at the top and — well — I have something that's not only very simple to make but which I also think is kind of cute. HB
Check out the work of the rest of the Ornament Thursday team here.
Related posts: