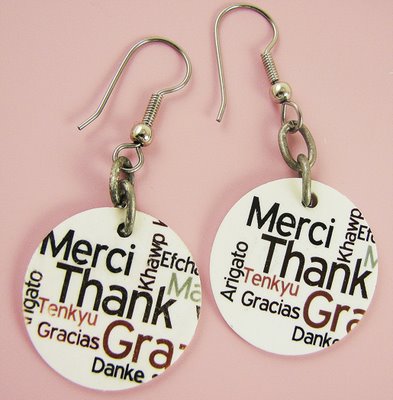 I have a new love, Wordle.net. Visit the site, type a few words and click a button and you have a fantastic word cloud created for you. You can choose your fonts and colours and you can use your word cloud wherever you like.
I took a Word Cloud I'd made using the word Thank You spelled out in some languages of the places I have visited recently or will be visiting, like French, Spanish, Thai, Italian and printed the cloud at a small size onto Shrink Plastic front and back.
Punch a large circle from the plastic and then make a small circle for hanging and heat to shrink. I finished my "Gratitude" earrings with some chain and findings. Too much fun. – HB
If you'd like to see what the rest of the Ornament Thursday folk are up to this month, here they are:
Cindy Gimbrone aka Lampwork Diva
Cindy's grateful for Ornament Thursday!
Gratitude Screen
Michelle's grateful for OT!
Linda shares her expression of gratitude
Of course there's a story behind Linda's shadowbox on the BeadStyleMag.com blog
Lisa looks at the meaning of the word
Just some reflection this month
Ornament Thursday – Gratitude
I am grateful that October is Breast Cancer Awareness Month
Journals
Check out Brandi Lung-Gill's site too.
Cat's Attitude of Gratitude
Our own Michelle at http design has a fun take on gratitude – think about it – what do cats give you when they love you? Mice!
Related posts: