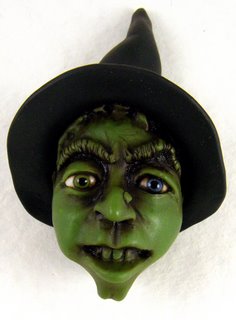 I bought a big (to me) screen TV and was singing along with Wizard of Oz while pondering the brew project. Then my favorite character the beautifully green Wicked Witch of the West was before me in 31.5 inch HDTV widescreen glory. I wanted to BE her! I offer you this lovely lapel pin that isn't a doorknob and which strangely looks a lot like me, but with green and oily skin.
From now on
I'll be history,
I'll be his…,
I'll be history
And OT will glorify my name!
I will be a bust,
Be a bust,
Be a bust,
In the hall of fame!
Tra la la la la la la la la la la
Tra la la la la la la
Tra la la la la la la la la la la
Tra la la la la la la
-MZ
Now check around and see what the other OT members have "brewed" for you this month:
BeadStyle & Milwaukee's heritage
Linda shares her Amber Bock Bracelet
Cindy Gimbrone aka Lampwork Diva
New Beads are Brewing…
Double, Double, Toil and Trouble…
Joolz by Lisa has a "Hairy" Twist on OT Brew.
The Art Bead Scene
Jennifer's Not-So-Scary Halloween Bracelet
Brew'in up a few Witches
Witches born of glass
Strands of Beads
Something wicked is brewing at Melissa's place
Swelldesigner
Alexa stirs it up with this retro witch wall hanging!
Related posts: