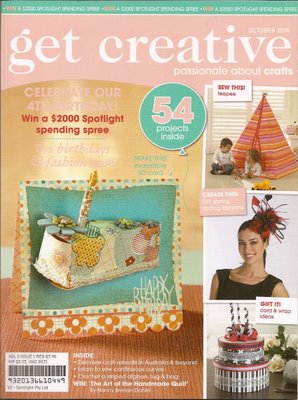 I am officially addicted to having my art appear on magazine covers.
I get such a trip from seeing my work there. This month, Get Creative in Australia has my 3D popup birthday cake card on the cover. I really hoped I would get this cover. The article was perfectly timed, it is the magazine's birthday issue and this cake card is so wonderful.
While paper engineering isn't my forte, this card came together so well and it really is a very smart design. It folds flat and then assembles with two pieces of double sided tape – how cool is that. It comes complete with its own built in candle! It features papers from the wonderful Sassafras Lass collection too.
If you're in Australia, you'll find it at good newsagents and Spotlight stores. Inside, in addition to a template and instructions for the card, I also have a rebuilt notebook project and a method for making cute scrunchy wire beads using packing peanuts.
Enjoy!
Related posts: