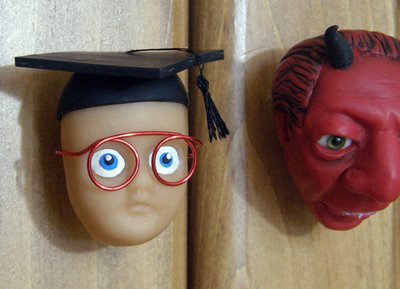 This month's Ornament Thursday theme is Academia. Last month's theme was Red Hot. I thought I'd be smart and redecorate Helen's work station without her knowledge. Not so smart of me. Turns out I was suddenly assigned the cleaning of that desk including dusting the designer door knob.
This month I have learned the error of my ways and recognize that my first designer door knob might not have been the best choice (or at least putting it on Helen's desk was sorta stupid). I now offer an innocent yet educated cherub-like face designer door knob using a Krafty Lady art mold. I have graduated. No more door knob redecorations… after this one. Really. I swear. MZ
Check out the wonderful work done by the other Ornament Thursday members this month:
Art Bead Scene & The Golden Rule
The Art Bead Scene editor shares a few words of wisdom for jewelry designers.
Back to School-Make your own Pencils
School is back in session, everyone needs new pencils. Why not glass?
BeadStyle goes back to school
Lindsay Haedt's on her way to the classroom, but not before Linda shares one of her recent designs
Beading Help Web Wires Up Academia
Lynn Kvigne to read! While you can easily use a scrap of paper or an old magazine subscription card for a bookmark, why not whip up a stylish book mark instead?
Check out the "homework" project from Joolz by Lisa
A collab effort works out great when you plan ahead
Cindy Gimbrone aka Lampwork Diva
Cindy's learned how to Mail!
First Day
Michelle's School Book – it's academic!
Swelldesigner goes crazy over school supplies!
Alexa shows you how to turn pencil grips into ultra funky accessories