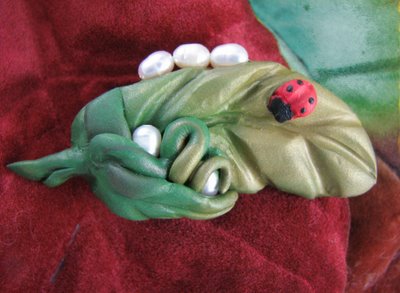 This month's insectia inspiration came from a class which I attended recently with Christi Friesen. Christi does some great things combining pearls and bakeable jewels with polymer clay. I created this leaf design using some green clay left over from a caning project. Attached to the leaves is a snake of clay, and in the curves and down one edge of the large leaf I wired small freshwater pearls into the clay. The ladybug – insectia! – is a small dot of red clay with black accents. I don't think that leaves are ever quite complete without at least one ladybug attached.
The completed project can be finished with a pin back and used as a broach or, better still, a simple hanging mechanism can be added so it can be affixed to a necklace of polymer clay beads and pearls. HB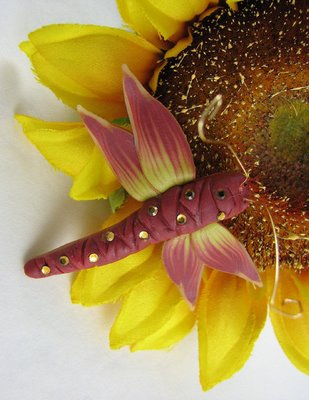 Michelle has been busy this month too. I snuck a look at her project and here it is. Nothing from her yet explaining her work – probably because she is wrist deep in a milk carton full of Mix and Mold molding compound. She's casting hands for a fun Halloween project. Hopefully her hand gets out in time for her to eat dinner!
If you're curious to see what other ornament Thursday artists are up to this month, click the links below to check out their wonderful work:
Art Bead Scene
Dragonflies are all the rage, art beads & brass combine in a 1920′s inspired necklace.
Beading Help Web's DragonFly Anklet
Make this cute anklet for summer in just minutes!
Linda at Make It Mine magazine
Make your own dragonfly top–check out the instructions and video!
Savvy Crafter-
See some cute as a bug pins over on Candie's blog….
Humblebeads
Flying to a fashionable ear near you, a free project from Humblebeads.
Katie's Beading Blog
Make a fun little winged thing from a handful of wire and beads.
Swelldesigner
You'll get butterflies when you see this summer-inspired necklace with butterfly pendant
fromichelle
Insectica
Related posts: