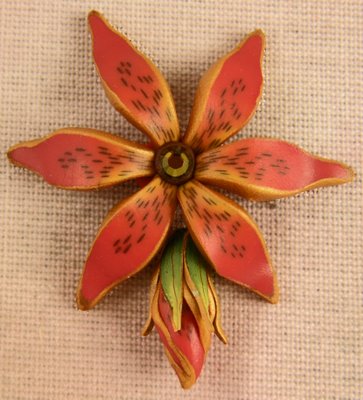 Ornament Thursday again! Feels like it was just a month ago.
This month's theme is motherhood. I had fun making this pin. It's made from cane pieces made out of Kato Polyclay. Tiger lilies have kids too (sort of). I made the cane parts and before assembling it into a flower cane, I cut off some individual petal slices and made a 3D flower and bud.
An eye pin and some chain hooks the bud to the pin, much like I was hooked to my mother's skirts when I was just a bud. MZ
Hop over to Ornament Thursday to see what everyone else has been up to this month.
5 Generations of Mothers
Hali's first attempt at an altered book featuring family photos of great grandmother down to her niece.
Art Bead Scene
Add art beads to needle-felted flowers for the perfect Mother's Day corsage.
Candie Cooper
See a sweet project that Candie and her mom made together.
Earthenwood Studio Chronicles
Celebrating Mother Earth with a ceramic pendant tutorial
Katie's Beading Blog
Make this easy talisman for new moms or moms-to-be
Linda at Make It Mine magazine
Quilts inspired by Mom's Mom
Modern Glass Link Earrings
Modern Glass Links for the Mom who's a classic!
Strands of Beads
Melissa and the Short One celebrate motherhood with a little origami
The Swell Life – Swelldesigner's blog
Make this cool and colorful buckle inspired by the iconic "MOM" tattoo
UR Charmed Mother's Necklace
Easy to make and personalize necklace for Mom or Grandma!
Related posts: