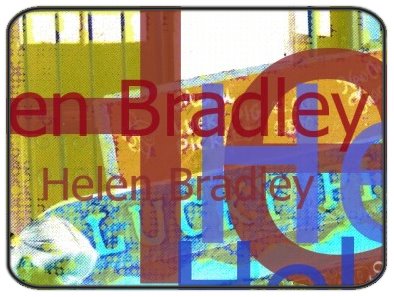 There are some things that you just look at and think, Wow!, that's seriously cool. Today I had one of those moments.
The site is typogenerator.net – Michelle commented that she could do typos without needing help from a website! but that's not what it is about. It should really be called typegenerator as it combines type that you give it with colours and images to create a fancy text collage.
Each time you use it you get something different and which can't be repeated. If you like the colours but nothing else, keep the colours and regenerate the text and background. If you like the background, keep it and regenerate the text and colours.
The image here was made from the program. I just typed my text and clicked and it created the image in about 30 seconds. If you like what you get, you can right click and choose Save Picture or Copy it to your photoediting program. You can also create and save a larger 640 x 480 version.
The program is handy for creating blog headers and backgrounds for collages. It does in a minute or two what would take a lot longer in Photoshop.
While you can't use the images for commercial purposes, it's a fun way of kick starting a project.
Related posts: