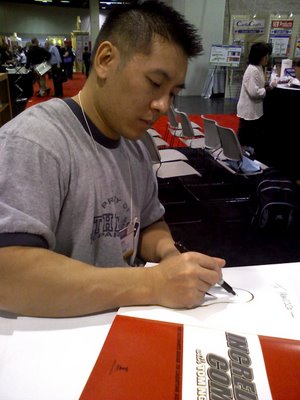 I think it takes a week or two after you return from CHA before it all begins to sink in, however, here goes with what I thought was cool.
DIY Rubons
One big trend I saw was printable rub-ons. These allow you to print rub-ons with your inkjet printer. Combine these with dingbat fonts and flourishes as well as text and you can rub on just about anything that captures your imagination. While Design Originals has these available, you can also get them from Grafix – they call them Rub-Onz Transfer Film. Grafix are also the folk with printable adhesive backed laser printer/copier & inkjet films as well as inkjet shrink film in clear & white. I love Grafix stuff – it's been around for years and it really is a very good quality.
A new whiter than white gel pen
Never a show goes by without something fun or neat from Ranger. This year they've answered my biggest need. I've been searching for ages for a white gel pen that is thick enough to write with – which goes on white – not faint white – that is juicy but not so much it smudges – what I want is the greatest white gel pen imaginable. Well thanks to the wonderful Alain at Ranger who delved deep into the stash in the Ranger booth to find one, I now have my own Ranger Inkssentials White Pen. It is great – bright and very white (not milky) and the ink flows so beautifully from it. You'll want to run – not walk – to your favorite store to nab one of these – while you're there, buy one for your best buddy and they'll thank you!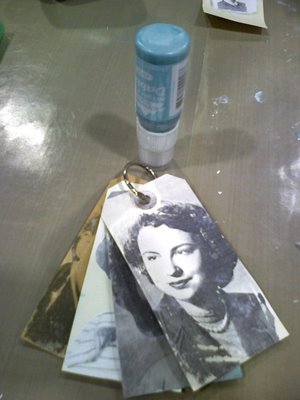 Claudine "the" Collage artist
Also at Ranger was my fave collage artist the wonderful Claudine Hellmuth. While booked for a demo, Claudine can never by pass an opportunity for everyone to have fun so we were all handed tags and Dabbers to do her new paint and laser image transfer technique *photo*. If you haven't used them Dabbers are Ranger's great paints. You flip them upside down and prime them like a paint pen by pressing them into your surface. Then you paint and the paint is not only lovely and bright but it also has a good opacity so it covers everything very well – and you can heat set it.
But enough of Dabbers and back to Claudine's technique. Paint a shipping tag with a Dabber and, then flip a laser image face down into the wet paint. Set aside to dry (or zap with a heat gun), then, when dry, wet the back of the laser print and start rubbing. Rub till the paper goes and your image is left. It looks great and it's a neat way to get a colored transfer. It looks great with white, pearl and silver but my fave is gold – on a shipping tag, gold gives you a wonderful effect. As usual, the Ranger lineup included "the master of distress" Tim Holtz, "melt art" lady the wonderful Suze Weinberg and Ranger stalwart, Robyn Beam who was braving the show with an injured knee but soldiering on regardless.
New Krafty Lady Molds from Michelle Zimmerman
As usual we caught up with Krafty Lady, Kristine from Oz. With husband Graeme (aka Grumpy in tow) they did their rounds. Michelle – the other half of HTTP design – saw her newest Krafty Lady mold – a wonderful set of 5 tribal faces packaged into a single mold. The designs look wonderful and Michelle got to play with it along with Ann Mitchell and Karen Mitchell (the well known "Mitchell sisters") at a class run by AMACO on Friendly Plastic. The Friendly Plastic can be pushed into the mold and heated so you get a great mold with the metallics of the Friendly Plastic showing as a stripe down the middle of the face. And, in case you didn't know it, Friendly Plastic is back. If you've never used it before it is plastic that melts with a heat gun, in the oven or on a hot tray that you can then mold or shape into all sorts of designs. Jana Ewy the writer of the original Friendly Plastic 101 book for Design Originals was at the show doing her thing with Friendly Plastic and one of my metal and Friendly Plastic frames was displayed in the AMACO booth.
Baroque Beauty molds go two sided
Also coming from Krafty Lady, designed by Michelle Zimmerman, are backsides for the Baroque Beauty molds. These backsides will match the fronts so you can make a whole 3D woman, complete with folds where we all have them and all ready for dressing or not as you like. Don't tell Kim Cavender though. She missed CHA which we were all disappointed about and Michelle carried round this special piece she'd made for Kim but without Kim to give it to everyone else enjoyed got to see it. Think Baroque beauty backside with a yellow polka dot bikini – polka dots are Swarovski crystal – all made with Kato clay so it positively shines. If you're reading this Kim, we plan to ship it to you before Synergy!
Meet our Neighbors
When at CHA we stay at the Marriott which is a great hotel and close to the show. Our fave room is down poolside because you can schmooze by the pool and it feels less like being in a hotel and more like a resort. Last year and this we've been lucky enough to get clay roommates next door. This year Gail Richie and Donna Kato were next door and in and out of the area were Sue Kelsey and sister Cathy Johnston also polymer clay gurus. We also got to meet the wonderful Maria del Pinto – she's one of the funniest people we've met for a long time and we got to hang out with her on day one of the show which was neat… but it does mean you have to be ready to go from the 5000s to the 1000s at a drop of the hat – thank goodness for Crocs without which the show floor wouldn't feel nearly as comfortable.
Author autographs
Book signings are always fun and this year North Light did themselves proud with the author lineup. Comic book artist, Tom Nguyen *photo*, launched his new book Incredible Comics which looks so great and will be a wonderful addition to any artist's book shelf. His book signing was the most amazing experience as he personally drew a character for everyone he signed for. It took around 15 minutes per signing and he just sat there talking and drawing, pacing himself and amazingly calm with all the buzz of CHA around him. If you ever get a chance to meet him, he's an amazing person – the kind of person you'd like to have hours more time to spend with.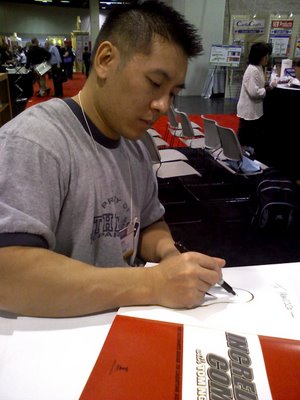 Get with the AlterNation
Also at North Light signing were Alexandra Underhill and Shannon Okey. These girls have just finished AlterNation: Transform, Embellish, Customize – a DIY book on altered clothing. We spent some time talking with Alex throughout the show and really enjoyed her company. She's travelled widely and done so many things and really is a fantastic talent as well as being a really nice person. It's great to see North Light recognizing their talent and giving us all incentive to rework our old favorite clothes (and new ones) into wearable art.
The Impatient Beader
One of the people we spent a lot of time talking to at the show with was Margot Potter. Margot is the Impatient Beader and she has heaps of books out and really is a dynamo. I met Margot first at Ranger U where we got our Ink/Embossing certification. Since then we've hooked up on LinkedIn and then at CHA we got time to talk. It's great to hang out with other artists and to trade ideas and experiences. Margot is one of those people who facilitate things, she gets people together and she makes things happen. You can't help but be enthused and encouraged to do great things when you're around her. For those of us who freelance and who work on our own a lot of the time, hanging out with likeminded people and trading stories is so empowering – it makes you wish CHA happened every month instead of just twice a year.
The Guyz from Oz
While I don't hang out a lot in the scrapbooking aisles I did see an up and coming company from Australia doing big business. KaiserCraft hails from Geelong in Victoria and their secret is great looking product at fantastic prices. They were flat out writing orders and for good reason. They have some great chipboard and wood products, a fantastic range of drop dead gorgeous papers (very reminiscent of Basic Grey and Cosmo Cricket people). They also print a free idea book for retailers on a regular basis and they release new papers with astonish regularity. They really have got a lot of things right and, if you're thinking they've come out of the blue – they have been in business for years – just one of "down under's" best kept secrets.
Double sided Bezels and shiny stuff
Another company that caught my eye is Amate International which makes great metal charms and bezels – many are double sided, some are wonderfully large and they are available in a range of shapes and sizes. They can be used by so many different crafters from polymer clay artists to scrapbookers and paper artists – think photo covered with Diamond Glaze or Ranger Glossy Accents. And, while we're talking Diamond Glaze, the Judikins folk have a new product in that same line called DG3 Art Gel *photo* which is like Diamond Glaze but which you can put on very thick and it still dries crystal clear with no cloudiness.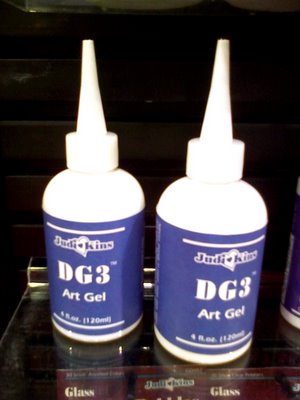 The folks who make E6000 have a new product which is very strong, will glue practically anything to anything and which is environmentally sound. I need to check out what it is called and come back with the name. However, it smells a whole lot better than E6000 and we got a tube each so we're looking forward to trying it out.
Lisa goes from strenght to strength
Polymer clay guru and all round wonderful person, Lisa Pavelka launched a new line though her association with JBH. Included in the line are waterslide transfers (including inkjet printable waterslide transfers) and her new Magic Gloss. This great gloss stays workable until set in sunlight or a special blacklight you can buy to set it. You can paint it on your clay piece and bake it or paint after you bake. It won't set till you set it outside in the sun or sit it in the blacklight. Then it sets rock hard and super shiny. You can even paint it on a waterslide transfer and build it up layer by layer into a clear dimensional element – simply set it with the black light between coats. We've been beta testing it for some time and it's great to see it out in the 'light of day'. Lisa also has some stamps including a Paisley stamp (which I now have in my possession having hunted it down in Michelle's post show stash), that you have to see to believe, it is just gorgeous.
So much for now. When I get a minute, I'll add some more news from the week.
Related posts: