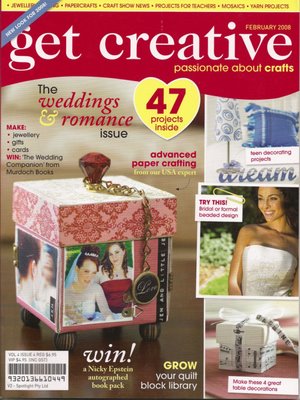 Opening the mags that come in each month is always exciting as I love to see how my stuff has photographed.
February was a special month as I didn't even have to open Get Creative from Australia to see one of my pieces – I just love getting covers! And all the more so when they are unexpected like this was.
The photos in this book were taken at Jen's wedding last year and, within a week made into this box and on their way to Australia for the Valentine's issue. Thank goodness her wedding was in September – even a month later and it would have been too late!
The book is really a box that opens out flat with photos around the outside and inside edges and a mini concertina book folded inside it. I struggled a bit getting it to work. I opened one box, covered it and then tried to put the lid back on and nada! Not only wouldn't it fold nicely but also, the lid wasn't going back on anytime soon!
Second try (No. 2 box), I cut and re-folded the box, tested the lid, then adhered the cover paper (retested the lid), and held it until it all set. That time it worked and the look dictated a shabby chic sort of effect which my editor obviously liked!
I'm now all out of .25in black dymo tape so that's back on my shopping list.