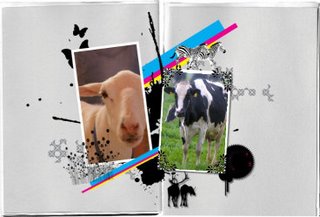 I thought I'd seen just about everything in digital scrapbooking until I happened across scrapblog.com. You absolutely have to visit this site.
It's simply amazing not only because it's a way of scrapbooking digitally online but also because the tools and features available are very up-to-date and classy and it's an extremely fast site to use.
You can upload your photographs. I suggest that you save them as jpegs and size them down to a size suitable for displaying on a browser window which means that they should be under 1200 x 1000 pixels in size – not only is that a sensible size to use but it also will speed up your upload times.
When you visit the site, click to get started straight away. You don't have to register unless you want to – you will want to but you don't have to do this yet. Use the Start with a Theme option and find a design that you like to use as the basis for your page. When you open the theme you get all the layouts that have used that sort of design so you can delete those you don't want and then just edit the one that you do.
If the design uses a circular picture then you'll have a few problems if you try to drop your rectangular photo over the top of the circular picture – it will be deformed and pulled out of shape. The best way is to drop your image onto the page somewhere other than over the circular picture, use the crop tool to crop it as a circle and then mimic the other person's photo frame before dropping your photo on top of theirs effectively blocking it out – or remove the unwanted picture after you've matched its look. It's up to you.
When you are setting the frame color for images you can use the eyedropper tool to sample from the page itself, or an object ton it, so that you can exactly match colors as needed.
I love the sticker collection – who knew you could get so excited about them?. There are stacks and stacks of stickers not only in the Stickers collection but you can also click a Get Stickers link in the Sticker area to add more stickers from the collection to the theme. There are swirls, ink drops and all sorts of fancy shapes, in fact a whole lot of stuff that any digital scrapbooking website would kill to be showcasing and they're all here ready to use.
The background designs are fun and there really is no reason for someone not to get into digital scrapbooking on this site. It's a topnotch site, well designed, easy to use and a heap of fun. I think it might be the best way you'll ever have of getting paper scrappers into digital – it's simply so easy to use.
You really owe it to yourself to go visit it.
Related posts: